Photographic Society of America (PSA)

2014 Ohio International

Stereo Exhibition

Ohio Stereo Photographic
Society (OSPS)
Exhibition Results (Accepted Entries)
| | | | | |
| --- | --- | --- | --- | --- |
| Best of Show | Best Creative | Judge's Choice | Best OSPS | Honorable Mention |
| | | | | | |
| --- | --- | --- | --- | --- | --- |
| | Title 1 | Title 2 | Title 3 | Title 4 | Country |
| Ballou, John | | | | Hummingbird Bath | USA |
| Barbera, Jose | Queen of one night | The Pillars of the Earth | | | Spain |
| Betge, Henry | Yangtze Antique | | Hong Kong Bamboo | | Switzerland |
| Bloomberg, Robert | The Source | Japanese Houseboat | Red Eyed Tree Frog 3 | Flight of Fancy | USA |
| Bollenbacher, Gary | | Biking Over Narrow Bridge | | | USA |
| Braun, Bruno | | Koecherbaeum | Bisti Badland | Zauberwal | Germany |
| Davis, Brian | | High Street Dinan | Rush hour | Watching out | UK |
| Deam, Emily | | | | Water Lily | USA |
| Emmerich, Signe | Drying Fish | People Mover | Squiggly Roof | Under the Trees | USA |
| Farrell, Tim | | Country Rocker | Flower Girl | | USA |
| Feagan, Leslie | | TownlineTombstones | | | USA |
| Fischer, Larry | Mothers Cupboards | Van Gogh Stamp | Old Man Bird House | | USA |
| Gauche, Barbara | Baby Owl at Zoo | Eroding Sand Sculpture | | | USA |
| Gauche, Paul | | | Lighted Lighthouse | | USA |
| Gil, Manuel | Castle of Alcala la Real | Sanctuary of Caravaca de La Cruz | Doma vaquera | | Spain |
| Green, Dennis | Curious Picture | Flute | Drill Press Graphic | Spike Shot | USA |
| Harris, Lillian | Brooklyn Bridge | Lady Bugs | Bubble Maker | SW Battle | USA |
| Harris, Luther | Mono Lake | | Cobh Ireland | White Tiger | USA |
| Hindman, Byron | | | | Teton Chapel | USA |
| Hjellen, Greg | End of Spring | Sling Launch | Lions Mane Jellyfish 1 | Dried Roses | USA |
| Hughes, Steve | Red Rocks | | | | USA |
| Hughes, Suzanne | | Marine Iguana Exploring Punta Suarez | Some Rocks Fall Some Dont | | USA |
| Karambelas, Bob | Jen Hoop Dance | Spogga Spins | Katlyn Draws, Katherine Leaps | Flour Child | USA |
| Karberg, Wayne | Pinery Narrows Infrared | A Great Day | An Isolated Group | Pet Rest | USA |
| Kaufman, Lawrence | Artist | | | | USA |
| Kemper, Klaus | | | | Butterfly On Orchid | Germany |
| Kesner, David | 42 Flathead | Ford Tractor Graveyard | Lowrider | Bee and Buds | USA |
| Klein, Georg | | | Organ 7066 | | Austria |
| Kriesel, Ronald | Sagurao Garden | Seagull | | Amarylis | USA |
| Kuntz, David | Stan Lee | 4th of July | Snout | Hurdlers | USA |
| Lower, Edgar | Blacksmith Hammers Rod | Red Hibiscus | | | USA |
| McMillan, Ray | The Kissing Pond | Forth Rail Bridge | Stairway To Hell | The Final Thrust | UK |
| Cosentino, Michael | Old Rusty | Old Steamer | Clipper Butterfly | | USA |
| Mitofsky, Eugene | Cave Creek | Pink and White Glass | | Nude Study 1 | USA |
| Modla, Andy | Aloof Pug | Alter Ego Struggle | Cat Jumper | Mieten Sie Uns | USA |
| Moll, William | | | | National_Cemetery | USA |
| Moreno, Vicente | | | | Medieval market | Spain |
| Moxom, Nancy | Bee on Nasturtium | | Kakadu Outlook | Lorikeet Feeding #1 | Australia |
| Moxom, Ray | | Garden Orb Weaver | Tom's Dog | | Australia |
| Muskovac, Nicholas | | | | Red Lily Asian | USA |
| Muzatko, Jack | | Owyhee Mountains | Pink Fish | | USA |
| Patt, Greg | | | Locked in Time | With open Arms | USA |
| Peters, Geoff | | Ringling Museum Sarasota Florida | | | USA |
| Philosophos, George | | Painting a Young Ghoul | Love Frog | Kimono | USA |
| Pratt, Lee | | Desert Contrast | Fishing in Colorado | | USA |
| Read, Andrew | Bella and the Dolphin | Cradle Mt Tarn | | Limbs | Australia |
| Reynolds, Chris | Best Left Untitled | Kodachrome Girl | Oregon Springtime | Schoolhouse Ice Grotto | USA |
| Ribarich, John | Winter Street | Puppy Play | | Staircase Point | USA |
| Rylan, Elizabeth | Percy Drinking Water | | | | USA |
| Shetley, Andrea | | Spider with Young | Sunset at Cedar Breaks | Yosemite From the Creek | USA |
| Sieg, Albert | | | Sidewalk Artist | Venice Night | USA |
| Stone, Cecil | Nicole 195 B+W | Nicole Mirror 85 | Canyonlands 1 | | USA |
| Swinnea, Patrick | Bubbles at the Lake | Patio Shadows | | | USA |
| Taylor, Charles | | | Chilkoot Kayaks | | USA |
| Toth, Michael | | | | Agent Kari | USA |
| Tozour, Jim | | Fluorite calcite Castle Dome Mine Arizona UVC | | | USA |
| Turley, Stewart | | Enterprise | | Ballard Locks | USA |
| Venezia, Bob | Majestic Burst | Colorado River Overlook | Hostas In Wonderland | Fly Over | USA |
AWARDS (L-R-L)
Best of Show - PSA Gold Medal
Fishing in Colorado
by Lee Pratt

Best Creative - PSA Silver Medal
Zauberwald
by Bruno Braun
Judge's Choice #1
Ford Tractor Graveyard
by David Kesner

Judge's Choice #2
Under the Trees
by Signe Emmerich

Judge's Choice #3
Castle of Alcala la Real, Jaen Spain
by Manuel Gil

Best OSPS Entry
Baby Owl at Zoo
by Barbara Gauche

Honorable Mention
Lowrider
by David Kesner

Honorable Mention
Hong Kong Bamboo
by Henry Betge

Honorable Mention
Red Eyed Tree Frog
by Robert Bloomberg

Honorable Mention
Dried Roses
by Greg Hjellen

Honorable Mention
Bubbles at the Lake
by Patrick Swinnea

Honorable Mention
End of Spring
by Greg Hjellen

Honorable Mention

Flathead
by David Kesner


Honorable Mention

4th of July
by David Kuntz


Honorable Mention

Japanese Housebat
by Robert Bloomberg


Honorable Mention

The Pillars of the Earth
by Jose Barbera


Honorable Mention

Patio Shadows
by Patrick Swinnea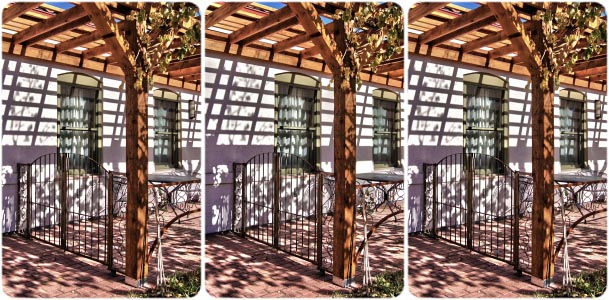 Honorable Mention

Desert Contrast
by Lee Pratt


Honorable Mention

Snout
by David Kuntz


Honorable Mention

Lions Mane Jellyfish
by Greg Hjellen


Honorable Mention

Sidewalk Artist
by Albert Sieg


Honorable Mention

Squiggle Roof
by Signe Emmerich

Honorable Mention
Bisti Badlands
by Bruno Braun

Honorable Mention
Medieval Market
by Vicente Moreno


Exhibition Details
Judges & Support

George Themelis, Paul Gauche: Co-Chairmen
Paul Gauche, Barb Gauche: Scoring
George Themelis, Projectionist
Jay Horowitz, Judge
John Bueche, Judge
Ron Fross, Judge

First Row (Left to Right): John Bueche, Jay Horowitz
Second Row: Ron Fross, George Themelis
Third Row (standing): Paul Gauche, Barb Gauche

Judging Method
& Statistics

25

2 images were received from 63 makers. (7 makers were OSPS members).

Judges viewed the images projected with two digital projectors, each having resolution of 1920x1080, on a 94 inch (2.4m) wide "silver" screen. Images were shown in four groups, each entrant's images divided evenly between them. Images were placed randomly within each group. The judges previewed each group before scoring.

A scoring range from 5 to 9 was used, with each judge scoring in accordance with the following guidelines: 9 (Image should be accepted with awards), 8 (Image should be accepted), 7 (Undecided), 6-5 (Not Accepted).

After the initial scoring, the acceptance line was drawn at 22 or higher. 139 images were accepted in the Exhibition.

The top-scoring images (receiving a score of 25 or higher) were shown again. After discussion among the judges, awards were given for 1) Best of Show, 2) Best Creative, 3) 3x Judges' Choice, 4) Best OSPS Entry. There was a re-scroring of the high-scoring images to reduce the number of Honorable Mentions to 18.

Exhibitions
The Exhibition will be shown in the following venues:
Thank you for your participation - We hope to see you back in 2015!
For further information or any questions, please contact:
---